The Top 5 EGGcessories for your Big Green Egg
If you own a Big Green Egg, you already know that it's an amazing grill for everyone from the casual cooker to the passionate pit master. The ceramic, Komodo-style smoker is popular for its quality and efficiency, and its versatility allows you to change the whole game by simply changing your EGGccessories. The Big Green Egg isn't just a grill, it isn't just a smoker, it isn't just a convection oven, it's all of those things and more.
They say that everything is better on an Egg, we say adding these five must have EGGccessories makes everything even better.
ConvEGGtor: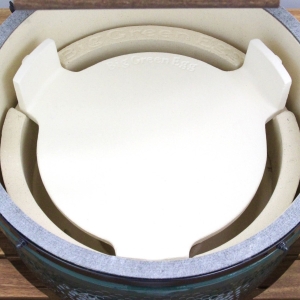 The Big Green Egg is already known for being an all-in-one outdoor cooking solution, but adding the ConvEGGtor will take your Egg, and your grill game to the next level. The CongvEGGtor fits inside your Egg and acts as a shield between your food and flame, instantly turning your Egg into a convection oven! Smoke ribs, cook a pizza, even bake a pie with this must have addition to your backyard smoker. Big Green Egg has PAGES of baking recipes available on their site for some culinary inspiration.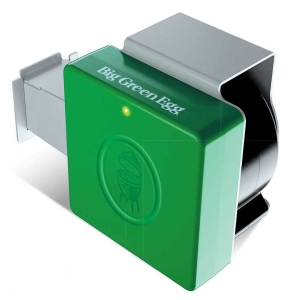 Wait, you can control the temperature of your Egg with your phone, computer, or tablet? We live in the future!  This remote control will not only let you manage the heat, it also allows you to set an alarm to alert you when your food is done or when the temperate rises or drops outside of the desired range. If you're into keeping track of your cooking metrics, the EGGGenuis provides detailed graphs of your past grilling, giving you a look back at meals you've made and what you did last time to make them taste so good.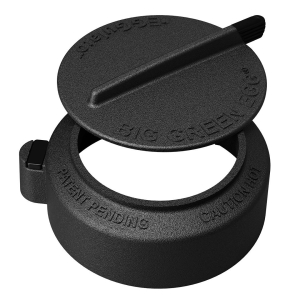 One of the secrets to successful smoking is the precise control over the temperature of your Egg, and the rEGGulator helps achieve that level of precision. Fully open, the vent allows for 50% greater airflow than the standard metal lid, and fully closed it provides an airtight seal that completely shuts off the Egg. Although this heat regulator is made of durable, weather resistant cast iron, it features a cool-to-the-touch silicone handle that allows you to turn up (or down) the heat without burning your fingers.  Remember, greater temperature control means a greater meal!
Genuine Ceramic Pizza Baking Stone: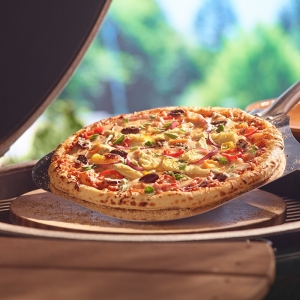 The Genuine Ceramic Pizza Baking Stone will turn your backyard BBQ into a pizza party! The ceramic stone, which is available in 3 sizes, transforms your Big Green Egg into a patio pizza oven, evenly distributing heat across its surface and pulling moisture from your dough, resulting in that perfect, brick-oven finish on all of your crusts, breads, and desserts! Need some recipe inspiration? Check out Big Green Egg's collection of delicious pizza recipes to get your coals burning!
Universal-Fit EGG Cover: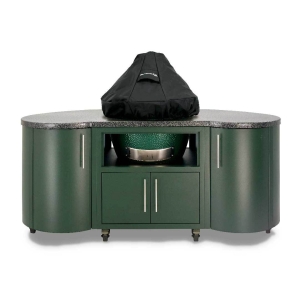 Protect your investment with this all-weather cover for your Big Green Egg. Made from durable, heavy duty weatherproof material, the Egg cover features a handle for easy on/off, hook and loop closure, and is hand washable. This universal fit cover is also ventilated, which prevents moisture from collecting on your Egg, extending its life and finish!
So as versatile as your Big Green Egg is straight out of the box, adding these EGGcessories only elevates your possibilities. We've got some real EGG professionals here at Alpin Haus who are waiting to hear from you with any questions about your BGE, to check on in-store availability, and even share a recipe or two! In the meantime, enjoy the weather and happy grilling!