The Three 'Cs' of Owning a Fire Pit: Comfort, Cooking, and Conversation
Is there anything more relaxing or inspiring for great conversation than the crackle and warmth of a good campfire? If you answered like we did, with a firm "no," then it may be time for you to add a fire pit or table to your backyard entertainment arsenal. Bring the whole family together or take a quiet break alone. Cook a giant open flame dinner for a yard full of party-goers or roast some marshmallows for the kids as the sun sets on another great summer day. No matter how you use yours, you'll enjoy the warmth and space that owning a fire pit or table will bring to your outdoor space. So read up on the comfort, cooking, and conversation that comes with fire pit ownership and then stop on by our Haus, because it's a great night for a fire!
Comfort:

Enjoy your backyard early or deep into the season by bringing in a fire table and expanding your patio into a three-season space. With this simple addition, those early April or late September parties can continue on after the sun sets (without bringing out the parkas) in the warmth and comfort of the fire. Expand your party space per square foot and keep your gatherings going with this simple and cost-effective backyard glow-up.
Or, if you look at your backyard more as your private sanctuary than party central, a fire table can add warmth and calm to your cozy serenity nook.
Our top three accessories for your patio fire table:
Outdoor dog bed: What brings you more comfort than the company of your best friend? Make sure he can relax with you by the fire (but not too close to it) with a cozy, durable, machine washable bed.
Bluetooth speaker: A little music from a little speaker can bring a lot of fun to your patio party! When shopping for yours, be sure to pick up something waterproof to protect your speaker against the dew on lawn, moisture in the air, or any spills that it may be subjected to.
Patio furniture: Have a seat, relax, and enjoy the warmth and beauty in a comfortable, durable patio chair. Check out what we have in stock, or order the custom-made set of your dreams!
Cooking: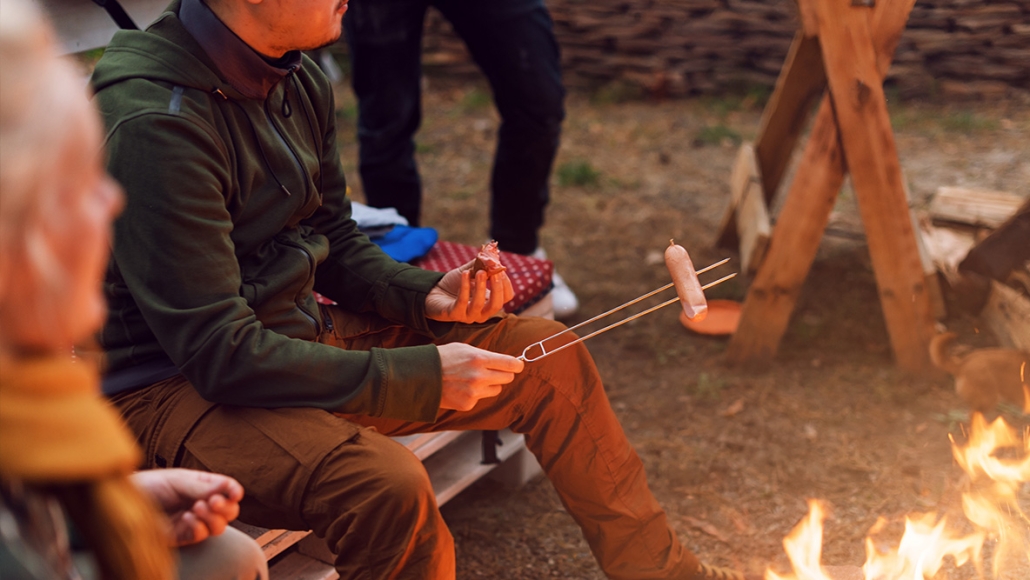 When you're craving campfire fare but not craving packing up the RV, just grab that big bag of marshmallows out of the cupboard and simply step out to your patio. Your open flame fire pit is not only a place to entertain and relax, but also a tool to create delicious summertime dishes as well! And open-flame cooking doesn't just have to be limited to hotdogs on a stick, check out our mouthwatering collection of campfire recipes that will easily translate to your backyard pit.
Conversation: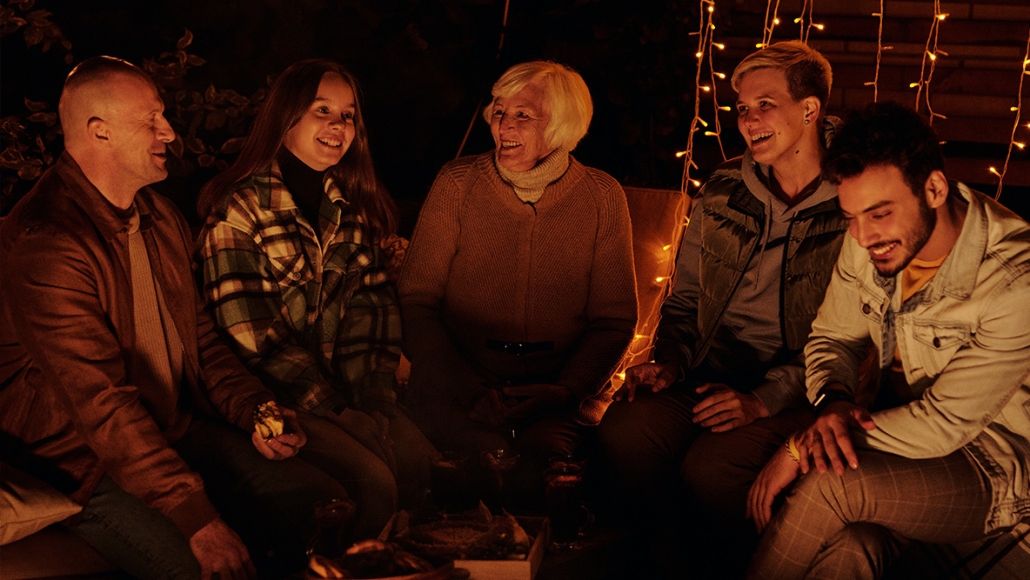 Snacks, drinks, and the warm glow of a cozy fire all have a way of making a good conversation great.
After all, people have been telling stories fireside since the dawn of civilization, it's in our DNA.
Installing a fire table, along with a set of Adirondack chairs, gives your patio a focal point; a place for socializing and relaxation.
So, gather your friends and family around the crackling fire, spin some yarns, and make some memories this season. Just don't forget to light those citronella candles or bring your bug spray because there is nothing fun or relaxing about mosquito bites.
Get the party going with our favorite fireside games:
2 Truths and a Lie: Each party-goer takes turns telling three "facts" about themselves, two of them being truthful and one being a lie, hence the name. They key is to make the lie a believable one, and delivering an Oscar worthy performance while telling it. Check out Parade's list of official rules and a helpful list of deceptions for your next party.
6 degrees of Kevin Bacon: And speaking of Oscar-worthy performances, the classic parlor game that challenges its players to name an actor, then find his/her shortest path to iconic American actor, Kevin Bacon. Just in case you find yourself in a particularly heated game and the rules are called into question, here's a link for your reference.
Telephone: Simple but classic! The player starting the game whispers a phrase (the more syllables or words the better) into the ear to the person next to them, and on and on it goes until everyone has heard the secret. The last player to hear the word or phrase speaks it out loud and hilarity ensues. Need some tips for the best game of telephone ever? We've got you covered.
How many times have you heard someone tell you, "Come by, we're having a fire tonight"? Well, stop by our Amsterdam or Clifton Park locations and we can help you become that someone! Whether you're looking for a quiet meditative evening alone, a family barbecue around an open fire, or an outdoor bash with friends, you'll need to look no further than your own backyard.