Yard Games to Play This Summer
Summertime is officially underway and that means pool parties, barbeques, summer vacation, and so much more! It's the perfect time of year to get outdoors and soak up the sun. Whether you're looking for some fun yard games to play this season or inspiration for your next outdoor gathering, there is sure to be something on our list for you!
1. Badminton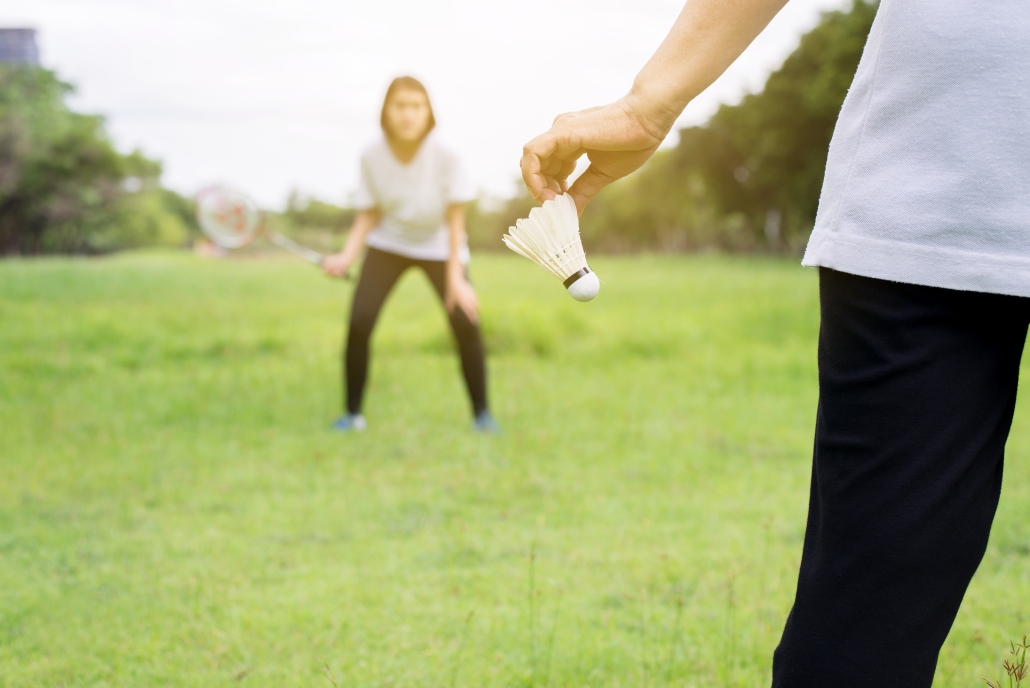 Starting off with a classic, Badminton is a timeless favorite. All you need is an open space, some birdies (more than just one because we know how this goes), a couple racquets, and a net. This game is a great option as you can play with as little as two people and there is always the option to add more players.
A cool and interesting spin on classic badminton is a yard game called 4-Square Badminton. If you ever went to summer camp while growing up, then you have most likely heard of or played the beloved blacktop game 4-Square. With 4-Sqaure Badminton, all you will need is an intersecting net that parcels your court into four squares. An added benefit of this version is that more players can be added to each square so greater numbers of people can play at once! This versatile yard game may be the perfect addition to your next barbecue.
How to play:
2. Kan Jam
Kan Jam is a frisbee throwing game that has become a summertime staple over the years. The great thing about Kan Jam is that it's team-based and can be played anywhere that has an open space. This yard game is the perfect addition to any outdoor social event you may be hosting this summer and it's sure to be a fan favorite for all ages. The instructions are easy to learn so the rules can be picked up quickly. Also, the game was designed to be highly transportable so the setup and cleanup are fast and easy. Kan Jam is well on its way to becoming a household staple for summertime fun!
How to play:
3. Cornhole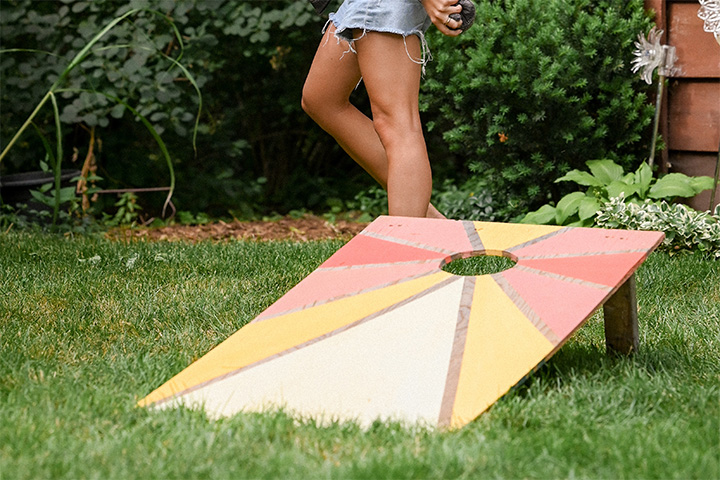 Does anyone else distinctly remember playing cornhole on the 4th of July? Cornhole and pool parties seem to walk hand in hand with one another. This team-based lawn game has been a fan favorite for as long as we can remember! It's a great game for all ages and levels of abilities as it is not too physically intensive. If you're looking for a fun way to spend time with the kids, look no further than cornhole. Its added team element makes it all the more fun!
An exciting spin on this classic yard game is Floating Cornhole which is available at both of our pool stores in Amsterdam and Clifton Park! This version takes cornhole to the next level by moving it to the water! Craving a cornhole match on a hot day? Stay cool by getting in some fun rounds in the pool!
How to play:
4. Spikeball
Looking for a yard game that's a little more high-octane? Spikeball may be the perfect game to try with friends and family this summer as it's on the more active end of the spectrum. Some describe it as a mix between 4-Square and Volleyball. It is action-packed and highly engaging. Whether you're hosting a summer party or are just spending the day outside, Spikeball is a fun way to be active and partake in some friendly competition!
How to play:
5. Giant Jenga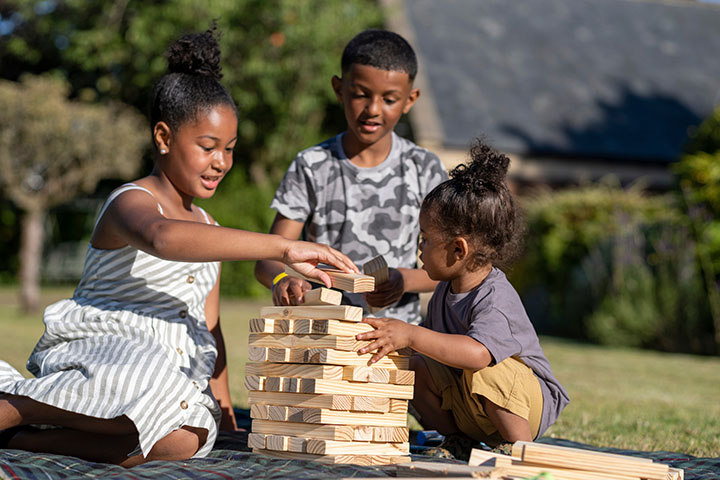 Pro Tip: Games are always ten times more fun when they make giant versions of them. What's better than a rousing game of Jenga? An even more rousing game of GIANT JENGA. One of our favorite types of yard games involves ones that have been classically played indoors, blown up, and made bigger to be played outdoors! Something cool about this game specifically is that you can also turn it into a DIY project by utilizing some repurposed wood to make your own set! Giant Jenga is sure to be a hoot at any outdoor gathering this summer. Anyone can play and most people already know the rules. Seriously, how could you not love the idea of Giant Jenga?
6. Bocce Ball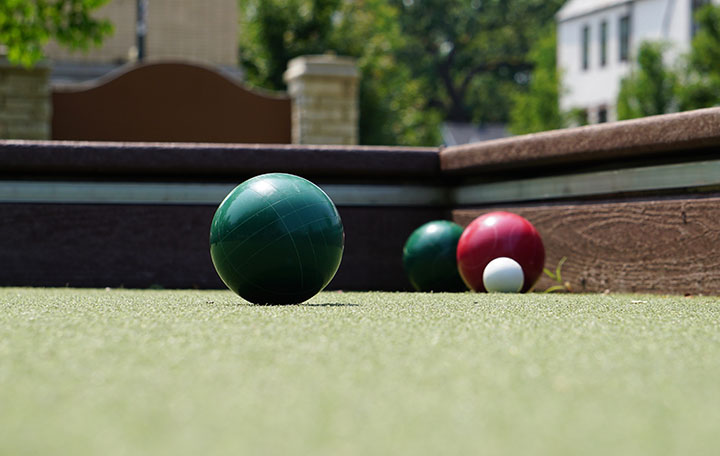 Bocce ball is another great game to add to this list. It can be played on a court or in the backyard and can include several players. If you are looking for a more laid-back yard game, Bocce may be perfect for you! We think it is a delightful game to play on a relaxed sunny afternoon.
How to play:
7. Croquet
Croquet is another classic yard game worth adding to this list. Like Bocce, Croquet lies on the more laid-back end of the spectrum. If you want a relaxing, group game where it is easy to socialize, croquet is a fantastic option. All you need is a croquet set, some friends or family members, and some open greenery.
How to play:
8. Wiffle Ball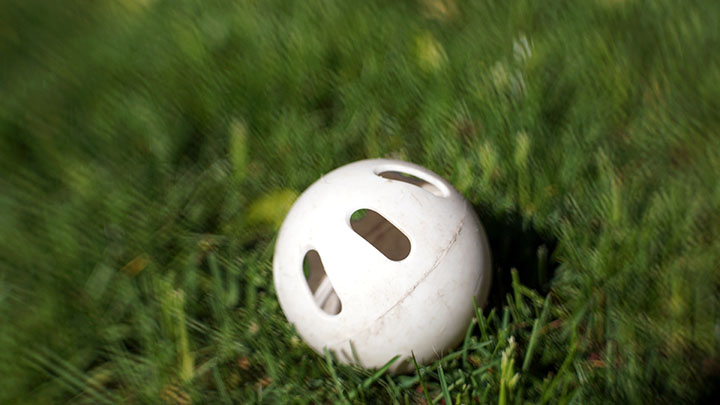 If you and your family are fans of baseball, this is sure to be the yard game for you. Wiffle ball is a great team sport and a fun way to spend time outside playing on the lawn. All you really need are some wiffle balls, a bat, and some makeshift bases. Beat the heat this summer by moving this game to the pool!
How to play:
If you're a lover of plain old catch with a baseball, then Hydro Catch may be just what you're looking for! Swimming and playing catch at the same time is both refreshing and fun. Stop into our Amsterdam or Clifton Park pool store to check out our wide selection of fun pool games! Depending on your mood, you can play these games in your yard or in the pool!
At Alpin Haus, we believe yard games are a lively way to enjoy the warm weather and spend time outside with our loved ones. Whether you're hosting a get-together or looking for ways to spend your summer days, these games are sure to get everyone playing outside and having fun!