5 Tips for Cross Country Skiing with the Kids
In a world of phones, tablets, and laptops, when we carry endless entertainment and information around with us in our pockets and backpacks, it can be easy to become…distracted. How many times have you said, "I'm just going to play one more round of this game," or, "I'll just read one more article" and suddenly it's past your bedtime? While we're all looking down at our phones, life is happening all around us.
Putting the phone downs, getting outside and enjoying each other's company while getting some exercise can be a perfect way to spend some time and strengthen bonds with our kids. Disconnect from our devices and reconnect with nature, and each other.
If you find yourself searching for a fun family activity to keep everyone active and happy during the snowy months, Cross Country skiing could be just what you're looking for.
Cross Country, or Nordic skiing, is known for its accessibility for all ages and skill levels, making it a perfect family-friendly winter venture that can strengthen the bonds across all the generations in your clan.
Our Nordic ski experts here at Alpin Haus have put together some tips for hitting the trails (paths, sidewalks, parks, or yards) for some cross country skiing with the kids, sure to result in successful snow day that's full of laughter and making memories that they'll carry with them for the rest of their lives.

Keep the Pace Easy
Fun fact: Professional Cross-Country Skiers reach top speeds of about 25 miles per hour on flat terrain, while a recreational skier averages between 7-10 miles per hour on the same type of ground. You, of course, won't be reaching speeds anywhere near either of those with the kids, but it's not about breaking land speed records, it's about having a good time! Let them dictate the pace, keeping in mind that they have to make 2 strides to your one if you try to take the lead. Overworking them will make this experience feel like a chore, and kids don't like to get out on weekends to do chores. Keep it to their pace and be ready to pack it in when they are and everyone will have a great time.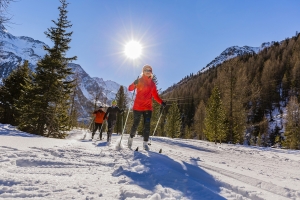 Choose the Right Terrain
While one of the benefits of XC is the ease of finding a place to ski (i.e., parks, paths, trails, just about anywhere), starting your young skiers on a groomed trail, designated for Cross Country is a great idea. Sites like stepoutside.org make it easy to search out Nordic paths near you. Trails that are well marked and maintained and allow you to choose the right path, (i.e., the right distance and elevation) with those little legs (and maybe the not so little legs of our tweens and teens) in mind. Taking it easy and making it an enjoyable activity will be the key to keeping the kids engaged, happy, and ultimately asking to get back outside and play in the snow again!
Choose the Right Apparel
Comfort and functionality are the name of the game when it comes to dressing the kids for the trails., but also keep in mind that it's all about balance. The trick is keeping the kids warm, not hot, ensuring that they're comfortable and happy, thus more likely to want to keep coming back. Our expert Nordies suggest layering up, but using lightweight clothing. A moisture wicking, breathable base layer, a waterproof top layer, and maybe a vest in the middle for those especially frigid days should get the job done. As they warm up, simply lose a layer. When choosing their outfit, it's easy to go into Alpine skiing mode and pack on the apparel, but remember that Nordic is a completely different sport. As opposed to gravity sending them downhill, they'll be working their little muscles to generate each stride, creating and outputting heat along the way. Keep them cool, but not cold, and it will keep them happy.
Remember Snacks and Water
Even when taking it easy, kids are going to burn calories on the loop, so remember to keep a snack and some water in your pack for your skiers. Nuts, protein bars, fruit snacks, and the like will give them the energy boost they need and keep the midday munchies at bay. Of course, it's always important to stay hydrated, especially when you're working up a sweat. Even moderate Nordic skiing will get the heart pumping, so keep the team topped off with fluids.
Pro Tip: Water is great, but something with some carbohydrates and electrolytes works well too (think your favorite sports drink), and be sure to keep it in an insulated bottle (we LOVE the YETI) so it doesn't turn into a popsicle out there.
Have Fun
The most important thing to remember, as simple as it sounds, it to just get out there and have fun! Cross Country skiing with the kids is about getting out and playing in the snow. You're creating memories that will last a lifetime, and encouraging them to do the same with their children someday.
Some ideas to keep things light and fun on the trail:
Encourage them to invite a friend. It's usually more fun with a ski buddy.
Set up a scavenger hunt/wildlife spotting checklist ahead of time, keeping an eye out for woodland animals, birds, and tracks to identify in the snow
Have a snowball fight
Take frequent breaks
So, grab the kids and head out to the winter wonderland just outside your front door. Stop in to our Amsterdam or Clifton Park Center Ski Shops and our friendly Cross-Country experts will be happy to answer any questions and get you and the family out on the trail in snow-time.